EDF Renewables UK and DP Energy, the partners behind the Gwynt Glas floating offshore wind farm in the Celtic Sea, are passionate about showcasing the industry and projects that they work on, in order to attract new talent into the renewable energy sector.
ORE Catapult report that the first gigawatt of offshore wind in the Celtic Sea alone could unlock 3,000 jobs and £682 million in supply chain opportunities by 2030 for coastal communities in South Wales and the South West of England. The Crown Estate has indicated its intention to lease up to 24 gigawatts (GW) of floating offshore wind projects in the Celtic Sea, with the first 4 GW to be awarded in early 2024. Gwynt Glas is targeting the development at least 1GW of floating wind in the first seabed leasing round.
Gwynt Glas, which has two staff members in the South West of England supported by the wider team and an office in the Tremough Innovation Centre, is committed to developing the local supply chain as well as education and skills initiatives in the region. Gwynt Glas is already working in partnership with education providers and environmental conservation groups. As well as providing a supply chain project briefing at the Marine Day hosted by Petroc College on 22nd June, the project team will also be delivering workshops to learners, teachers and parents to showcase the job opportunities floating offshore wind presents.
The Gwynt Glas team are looking to learn from the workforce planning experience and knowledge gleaned from other significant EDF infrastructure projects like Hinkley Point C which has drawn on the experience and capabilities of businesses across Wales and the South West. The Hinkley Point C project has already created 19,250 new jobs directly on the construction site, trained more than a thousand apprentices and will provide 30,000 training courses at purpose built facilities as the build progresses.
Both EDF Renewables UK and DP Energy aim to encourage diversity into our project teams and encourage representation from all corners of society and community groups. Representation, be it gender, minority-groups, disability, sexuality, neuro-divergent, religion, diversity in recruitment makes for an inclusive, adaptable, sustainable future workforce. We have an opportunity to champion equality for all.
The demand for workers in the floating offshore wind industry will be, not only for engineers and manufacturing related skills, but for environmental, marine, consenting, project and stakeholder management, legal, communications and commercial professionals to name but a few. The key take-away here is that the skills required to build these large infrastructure projects are extremely varied.
Working alongside education, industry, local government, statutory stakeholders and local supply chain EDF Renewables UK and DP Energy have already championed several initiatives to push renewable energy to the forefront of the education and skills agenda.
These are some of the ways that young people are gaining an introduction to the renewable energy sector, the skills needed and the potential careers pathways they could consider:
#1 – DestinationRenewables: In partnership with Pembrokeshire College, EDF Renewables UK and DP Energy are supported by 23 delivery organisations to educate and inspire 16 to 18 year olds via an industry led programme. Destination Renewables is a two year programme that covers all renewable energy technologies, culminating in a recognised Extended Project Qualification for learners. Based on feedback from the pilot phase, course content is being further developed to make the programme accessible to other colleges wishing to engage with industry and put renewable energy on the curriculum.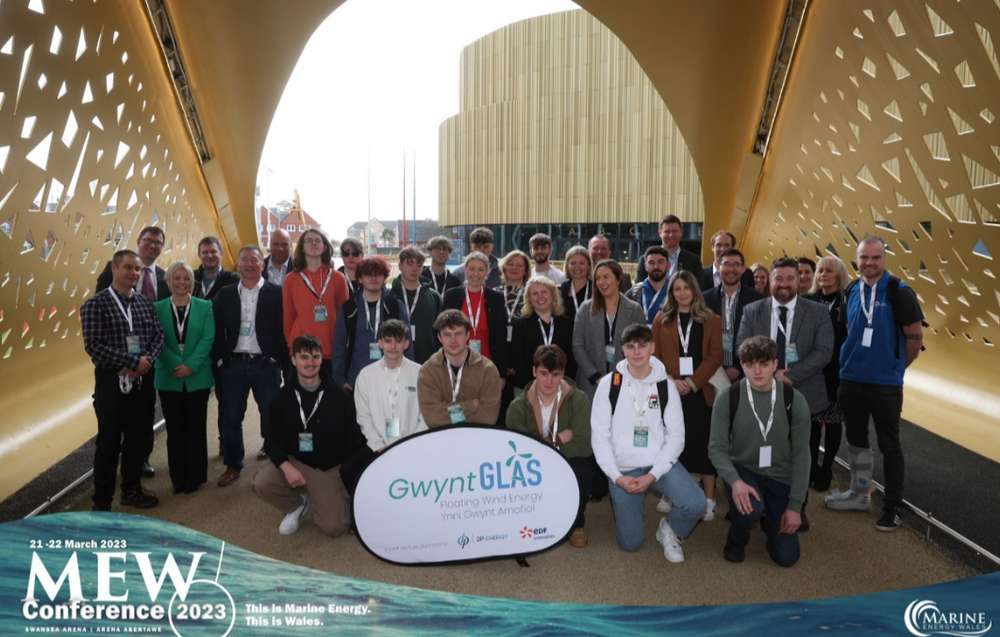 Image: Destination Renewables students meet with the industry course delivery partners at the Marine Energy Wales annual conference before visiting the exhibition. 
#2 –  Skills Competition Wales: This established skills promotion initiative has introduced Renewable Energy as a competition category for the first time this year. Eight teams from seven colleges across Wales took part in this competition with representatives from Gwynt Glas helping scope, mediate and score the project ideas.

Image Left: Competitors receive project development guidance from Gwynt Glas team
Image Right: Pembrokeshire College team win Silver Award in Skills Wales Competition
#3 – SEREN Innovation Project: In a bid to give A-Level students 'a competitive edge' when completing their UCAS applications, students from across three counties immersed themselves in a 'How to Build a Windfarm' workshop using 3D visualisation technology.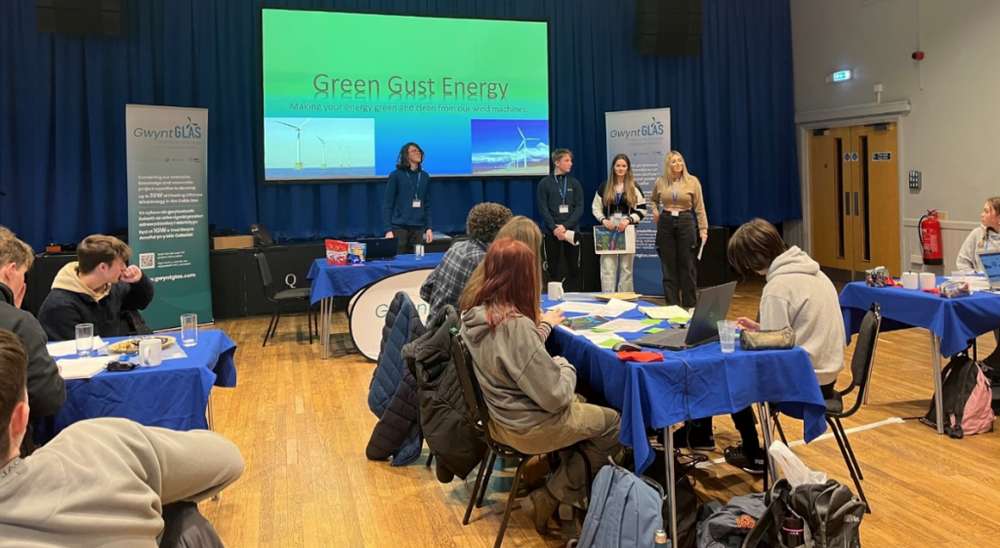 Image: A Level students form 'Green Gust Energy' development company and deliver a professional end of day pitch.
Experiences and learning from these initiatives are having a positive impact on students, but we appreciate there is a lot more to do. These are small steps in what is an industry-wide challenge to ramp up workforce demands, in particular for the developing floating offshore wind sector. By placing a focus on developing education, skills and training today, and kicking-off initiatives on the ground now, we aim to shine a spotlight and shape discussion on the potential economic opportunity and prize for coastal communities, which will come in the form of thousands of skilled, well-paid green jobs. Let us not forget the ultimate global community prize is achieving net zero.
To keep up to date on Gwynt Glas project development please visit: www.gwyntglas.com
Anyone interested in finding out more about our education and skills can get in touch with Ffion Wright, Stakeholder and Communications Manager at Gwynt Glas, email: [email protected].